Friends of Francis Park is a 501(c)3 charity, organized by St. Louis Hills residents, whose purpose is to raise funds for major improvements to our neighborhood park. These funds will be raised through contributions, fund raising events, and grants.
Anyone who is interested in helping to enhance our beautiful neighborhood park, or who wants to keep up on park improvements is encouraged to join. Learn more >>
David R. Francis Memorial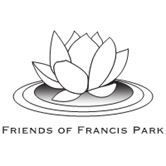 We invite you to contribute to the David R. Francis Memorial.
How to become a Member of the Friends of Francis Park
Download a brochure about this project >>
Mission
Our mission is to preserve, improve, support and promote Francis Park, which is a public park in the city of St. Louis, Missouri.
To Donate, Click the button below: