About Friends of Francis Park
Friends of Francis Park will work closely with our alderman, Tom Oldenberg, and the St. Louis Hills Neighborhood Association in determining how funds raised will be spent.
David R. Francis Memorial
The SLHNA and Friends of Francis Park are seeking donations for a beautiful memorial to a great man. All donations should be made to Friends of Francis park, and are tax-deductible as allowed by law.
Click here to make a donation towards the statue project using your credit card or paypal account.
Download a brochure about this project.
Strategic Plan
The Strategic Plan adopted for Francis Park will serve as our blueprint for expenditures. Some of these expenditures include:
improvements to drainage in the park
a new soccer field
a central pavilion and plaza south of the lily pond
a nature area surrounding the existing swale
Click on image to enlarge.
Board of Directors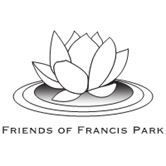 Thomas Byrne, Chair – [email protected]
Joni Ott, Secretary – [email protected]
Judy Murphy, Treasurer – [email protected]
Steve Jacobsmeyer, Vice President – [email protected]
John Burghoff, [email protected]
Mike Banahan, [email protected]
Nancy Vordtriede, Board member – [email protected]
Allie Schweitzer, [email protected]